H-Game 1720: He Who Vowed to Create a Demon Harem v1.12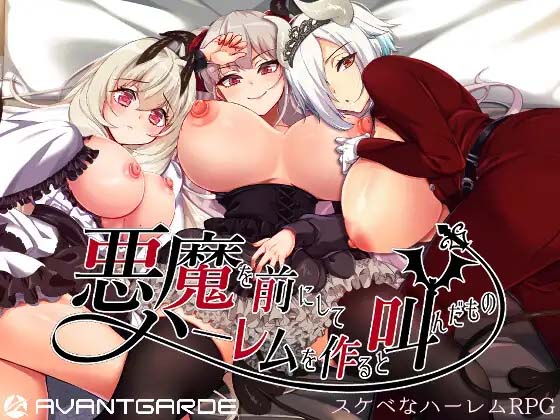 Original Title: 悪魔を前にしてハーレムを作ると叫んだもの
Version: 1.12
What happens when a hero falls for the demons he's supposed to destroy? Strange circumstances bring a human hero together with three demons, and the four of them set out on the adventure of a lifetime. They don't work well together at first, but after a while (and with a little help from a special item), these old enemies will start to REALLY get along…
The year is 1887.
Humankind has been assailed by demonic invaders from hell. For a time, humanity's future was uncertain… until brave soldiers arose who fought back the demons. These soldiers are called heroes.
One such hero, a man named Theo, has a goal in mind: take back the city of Manc from the demons who control it, the Halfas family. But the daughters of said family ended up being a lot cuter than he expected…
[H Scenes]
H scenes will change depending on the girls' status!
Since they're all hostile demons, they won't be too excited about things at first… Use the powers of a hero to train them into the finest of fuck-sluts! Throughout your journey, they'll start to like you more and more… and before long, the s3x will be so devilishly sweet…!
Includes everything you'd expect from a super-sexy fantasy RPG like blowjobs, footjobs, etc, but there's also some kinkier stuff like bulging bellies and nipple piercings!
[Game System / Features]
– Includes 5 endings
– Adjustable difficulty settings
– Pose art changes reflecting clothing and pregnancy
– ON/OFF options for voices
– Message skipping
– Window obscuring
– Message backlog
– Reminiscence room
👑 Support us today to Download more contents & get EXCLUSIVE Rewards!
💡 Visit our Help Center if you need Password or get help with errors!
🛒 Buy the game to support the Developer if you like it.
📬 For Developers, visit our DMCA Page from the Menu if you need anything.