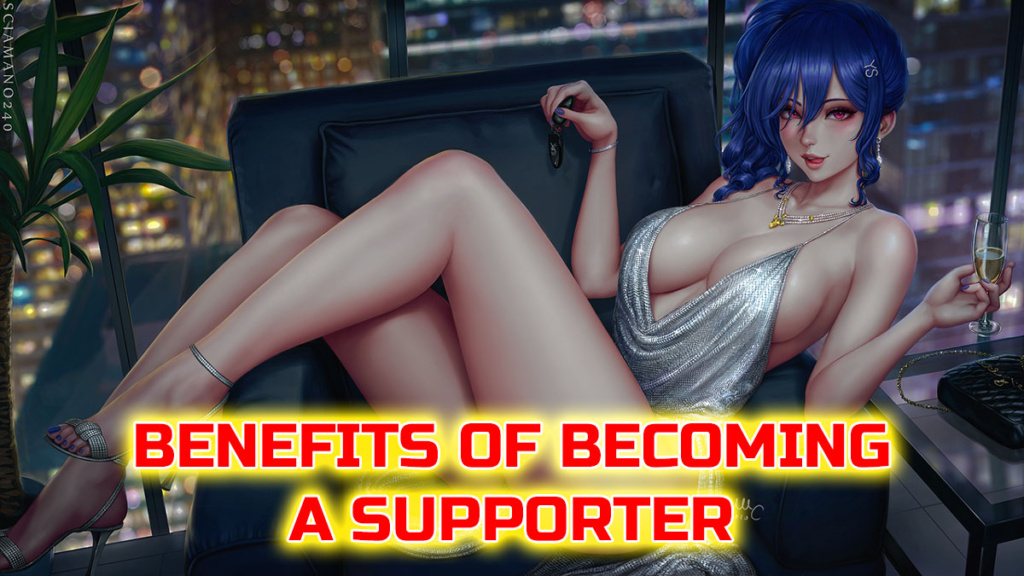 🎊 Becoming a Supporter today (just with the price of a burger 🍔), you will able to download WONDERFUL content on our site and receive even more with Reward Packs & Extra Stuff! (Please read the description of each Tier for more detail)
🎀 Remember to stay subscribed to get every month Reward Packs! The quality of the content inside Reward Packs is the BEST stuff, you don't want to miss any of them 🎁!
🎈 Your monthly support is REALLY IMPORTANT. It will help us to continue, improve our work and keep the website Ads-Free (we don't insert annoying ads to our website).
🎈 Every single one of you is important
And we are truly grateful to have you in our community! 🎉
———————————————————————————————————
⭐ List of Tiers & Details ⭐
Tier 1: Player 🏅 (5$)
🎈 Wow! Thank you so much! This Tier will unlock most of the regular content, along with Biweekly Rewards:
🎁 Biweekly Rewards: Download a pack of 3 H-Animations + 4 H-Doujinshi every 2 weeks of the current month! (2 Packs/Month).
✨ Download TONS of BONUS H-Games!
H-Voices of anime girls to listen while sleeping ( ͡° ͜ʖ ͡°).
●
Tier 2: God 💎 (10$)
💎 Kindest Heart, Biggest Reward 💎

✨🎉This Tier will BLOW your mind! You will be able to access even MORE kinds of content that we upload every month on the Blog & Monthly Reward.
ALL benefits of Player Tier.
🎁 Monthly Reward: Download a BIG pack of 2 BONUS H-Games + 6 H-Animations + 6 H-Doujinshi EVERY month! (Quality of this pack is even HIGHER than Biweekly Rewards)
Able to download 2D/3D EXTENDED H-Animation videos. What a wonderful "fep" materials! ( ͡° ͜ʖ ͡°)
Download H-MMD and H-Anime with Eng Sub for your relaxing time.
Any new content or benefit in the future will be automatically available for God Tier (because you're a God).
●
Tier 3: Almighty  👑 (20$)
👑 THE MIGHTIEST HERO 👑
ALL benefits of God Tier.
🎉 Able to download ALL Goal Rewards & Biweekly Rewards of the previous months, which have no other ways to get if you miss any of them before.
●
Tier 4: ✨Holy Light✨ (30$)
✨ SHINE OUR WAY ✨
ALL benefits of Almighty Tier.
🎉 Able to download ALL Monthly Rewards of the previous months, which have no other ways to get if you miss any of them before.
Your support as a ✨Holy Light✨ should help us pretty much in our work to make our services better. From the bottom of our hearts, thank you SO much for joining this tier!✨
⭐ After Your Donation ⭐
DO NOT

use Message on the platform.
Send us your Username, Email & Tier that you use on the support platform (do

NOT

send other emails or we can't send the reward to you) so we can confirm and send you the rewards: "[email protected]" or Discord: Thomas Taihei#2687
We will send an email containing the reward (based on your tier) to your email within 24 hours.
The download links of the rewards will be renewed every month. We will send a new email to you every month, as long as you're still supporting us.
👇👇👇👇👇