H-Game 1510: Re:BF v2.05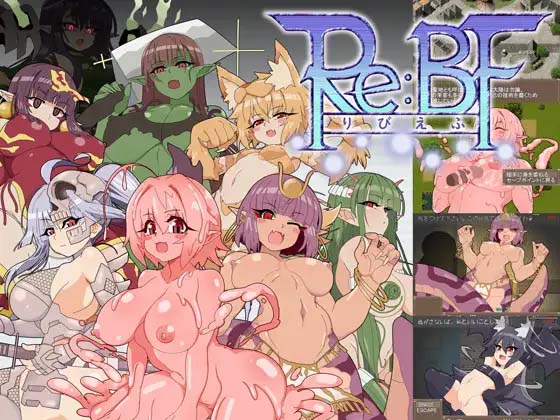 Version: 2.05 Official English
Taken in as a servant by a noble house while he was still young, Venos was just like anybody else, but he was treated as a part of the family for his dedication and smarts. Years later, he is just about finishing his adventurer training, when the world as we know it begins to change…
Brand new monsters have started appearing throughout the continent of Garzholm, and while they may resemble human women, their power far exceeds that of the slimes and vampires that roamed the land before! Only those with specialized training are able to take on these new monstrosities!
But at the same time, the old duke of Venos's home city, Prontemple, is thinking of retiring, and there seems to be no worthy successor among the noble families. While humans are arguing amongst themselves, it seems that monsters are starting to unite under a new leader, and are preparing to start an all-out war against mankind… It's time for Venos to put his adventurer skills to use, and step forward to protect his family and the whole world!
[GAMEPLAY]
The combat in Re:BF is all about one-on-one encounters! From the lowly slime-girls to deadly vampire lords, each enemy is fully animated, with different skills and requiring varying tactics to take them down!
Being a JRPG, there are of course plenty of quests to complete, secrets to find, and characters to meet. Seemingly simple missions, such as procuring food ingredients or helping a noble sell his house, might turn into something wholly unexpected… And what's up with those ninja monsters living in the local sewers?
There's also an in-depth skill system, with plenty of different builds available. Will you be a tanky counter-attacker? A swift mage, evading every strike? Or a well-rounded warrior? With the skill tree and stat point allocation, you can decide on whatever style suits you best!
And if that's not enough, you can also capture any monster that's roaming around the map, get their help in combat, and use them to learn even more skills! Can you catch them all?
[FEATURES]
In-depth JRPG
From learning new abilities to equipping a variety of gear or power-ups, there are plenty of possibilities to play just as you see fit!
Animated Combat
Each enemy in the game has unique art, with hand-drawn animations for their different attacks.
Full World to Explore
With several towns and dungeons, there's no end to things to discover, from hidden quests to obscure hints that you can use to uncover secrets…
Plenty of Characters to Meet
From the regular humans to monsters populating the wilds, the cast of this game is filled to the brim with all kinds of memorable characters!
👑 Support us today to Download more contents & get EXCLUSIVE Rewards!
💡 Visit our Help Center if you need Password or get help with errors!
🛒 Buy the game to support the Developer if you like it.
📬 For Developers, visit our DMCA Page from the Menu if you need anything.