BONUS H-Game 214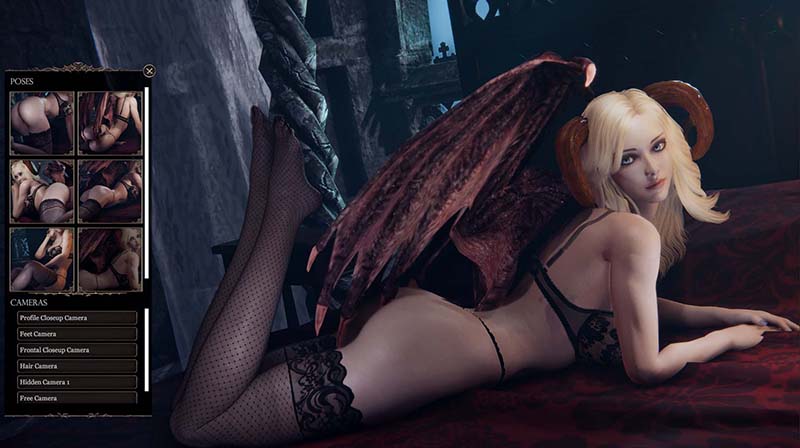 SCREENSHOTS
Version: 0.990
A dark fantasy ARPG that let you engage in brutal and gory combat in the demonic realm. Play as the gorgeous but deadly Succubus. Grind your way through enormous amount of horrifying abominations and bosses, until she becomes the most formidable and seductive devil.
SYSTEM REQUIREMENTS
MINIMUM:
OS: Windows 7, Windows 8, Windows 10
Processor: Intel Core i5 3210M CPU
Memory: 8 GB RAM
Graphics: 4 GB VRAM

RECOMMENDED:
Processor: Intel Core i7 7700 CPU
Graphics: Geforce GTX 970 or AMD Radeon R9 290
Changelog
v0.990
Added the valentines room (A photo scene).
Added the Valentina Lingerie set.
Added stamina potion.
Add exp points to the entire party after combat.
Fixed many map related glitches.
Minor balance tweaks – you get more gold from looting.
Added merchants to Nova Palace.
Bug Fix: The player succubus doesn't look at camera if you look at her.
Bug Fix: Tisor Mor map doesn't have boss.
Bug Fix: Achievement hotkey not working.
Bug Fix: Wrong icons for many items.
Bug Fix: Falling out of map from grassland skirmish.
Bug Fix: In some levels enemies occasinally generate out of map.
v0.982 Hotfix
Bug Fix: Can't buy furniture, when opening the furniture list, it is empty.
v0.981
We've got a Holiday gift for you! Update the game to get your Christmas-themed room, Christmas tree, and a few other merry items. Happy Holidays!
v0.980
Added barbarian enemies
Added elite skeletons enemies
Added 1 more photo scene
Added more variety of spears
Bug Fix: spear power attack deals no damage.
Bug Fix: if you open the furniture building next to an already placed one, before buying press F and relocate the already placed one on the ground, you place it for free.
Bug Fix: different succubi need a different amount of exp to level up.
Bug Fix: after receiving the achievement reward, it was not saved, and the reward disappeared after logging in again.
Bug Fix: spawning underground at the Palace.
Bug Fix: companion shoots a fireball at an enemy even if faces them with her back — backward.
Bug Fix: sometimes the customization window will stuck forever.
Bug Fix: after loading the save and claiming the reward, once you reload save the Achievement system showed that you had claimed the reward, but you don't have those items in your inventory.
Bug Fix: if you give a companion a bow, she does not shoot, but goes into close combat and just stands there.
Bug Fix: minions level up, but their stats don't.
Bug Fix: can't move the camera in free pose mode.
v0.970
Added 10 more furniture decorations
New minions- more tiers for skeletons
Added desert skirmish maps
Removed level cap
v0.960
Added a Halloween scene on the world map(Halloween 2022).
Added a Halloween lingerie set(located in the Halloween scene in a chest).
Added a few Halloween furniture.
Bug Fix: Some furniture when purchasing they don't charge crystals.
Bug Fix: Fixed some map related bugs(stucking, falling,etc).
Bug Fix: Big Hanging Cage skeleton doesnt have collider and can't reach the point to destroy it or relocate it.
Bug Fix: Fixed several item related bugs(wrong icons, wrong weapon type, etc).
Adjusted higher level map difficulty(enemy number).
v0.952
Bug Fix: Furniture placed in the Nova Palace interferes with the new Cold Palace.
Bug Fix: T-pose when interacting with the shower.
Bug Fix: Some times girls not appearing on the Free Photo Mode.
Bug Fix: Mouse Y Invert not working.
Bug Fix: Many furniture not interactable by companions.
Bug Fix: Very low resolution for when taking picture.
Bug Fix: Photo album icons overlapping with each other.
Bug Fix: Many map related issues where player can stuck or exit the map.
Re-opened the additional small room located near the bedroom.
Added level cap at 30.
v0.951
Test version move to main.
v0.950 Test Build
Additions:
Added 40+ free poses.
Added a new palace.
Added 2 photoshoot scenes, Romance Stream and Sky Garden (no enemies, just for taking pictures).
Added function to close furniture interaction panel with ESC button.
Added sound for intimate scenes.
Added music for all scenes.
Added a skill to improve dual wielding.
Added artwork for the diary.
Added confirmation for Random character.
Added confirmation for Reset character.
Added more details for the boss room in the Scarlet Dawn map.
Polished some UI experience.
Bug Fixes and Adjustments:
Bug Fix: Cannot equip some higher-level shield.
Bug Fix: Extremely short spawning distance of some enemies in dungeons.
Nerfed the Orc Queen.
Nerfed the Demon Boss.
The overall balance of combat difficulty and drop rate.
Adjusted lighting brightness for all decoration lighting.
Adjusted brightness for all maps.
Added default Pubic hair density
Bug Fix: Many places on the map that can stuck the player.
Bug Fix: The Fire Angel sword deals 0 damage.
Bug Fixes: free pose mode cannot change the facial expression.
Bug Fix: Color selector not getting closed after you quit customization.
Bug Fix: The camera on some skirmish map tilts to the right side.
Bug Fix: When minions are charging, and there are no enemies, they stuck.
Bug Fix: If you hit the "i" key while in Free Pose mode, it'll open up the inventory and kick you out of Free Pose.
Bug Fix: Several wrong item icons.
Bug Fix: Open the party panel in combat will cause minions to disappear.
Bug Fix: if you uncheck the button Bring Minions, they are still coming to the battle with you if you go to battle from the world map right after the battle.
Bug Fix: Merchant not getting refreshed.
Bug Fix: Companion often stuck on the stairs.
Bug Fix: Press hotkeys will interrupt the customization session.
Bug Fix: Loading the game during stronghold defense will reset the enemy levels and amount.
Bug Fix: Can not leave some stronghold maps because the portal is gone.
Bug Fix: You can die twice if you are dead and the enemies continue to attack you.
Bug Fix: Orc battle blade is not held correctly.
v0.930
Bug Fix: Army falling down to the ground on the world map.
Bug Fix: Garrison UI overlapping with other UI.
Bug Fix: Fireball on the skirmish map looks too bright.
Bug Fix: wrong spawning position in the Catacomb of Sacrifice.
Bug Fix: custom color doesn't work.
Bug Fix: Can't close the Free Pose Mode menu with the "X" button.
Bug Fix: When clicking Esc to see all menus, there is an overlap when selecting the Furniture Menu.
Bug Fix: Alluring Fantasy armor does not display.
Bug Fix: arrows stuck in the air.
Bug Fix: music volume slider doesn't work.
Changelog
Adjusted brightness for all levels.
Canceled fireball casting delay to make an instant cast.
v0.920
Main Features & Adjustments
Added some adult content (poses, animations and furniture, need to unlock through achievements).
Polished achievements (with better rewards, usually lingerie and furniture).
Canceled the lingerie set merchant(merged this feature with achievement system).
Added a feature for companions to automatically pickup gold and potions.
All interact-able furniture will be marked with an icon in the building list.
Added a toggle to don't bring minions into combat.
Added a button to reset skill points (gold required).
Added a few new lingerie.
Modified dual wielding and great sword special attack.
Reduced rage accumulation speed.
Added facial expression (automatically applied to certain poses).
Major Bug Fixes
Loading rings and necklaces will give you the wrong stats.
After load the game enemy controlled cities will be yours once you enter the battle.
Many map related bugs are fixed.
Rage can be interrupt by blocking.
A series of bugs related to the building mode.
Many UI related bugs, for example misaligned fonts, overlapping UI elements, etc.
Merchants' storage get refreshed every time you get home.
v0.900
Major Bugs Fixes:
Skeleton archer won't shoot after death and revived.
Companions won't switch to other weapons when they are out of arrows.
Save Pose button in the free pose menu doesn't respond.
Boots get unequipped after interacting with furniture.
Weapons on the left-hand shares magical attributes with a weapon on the right hand.
Many invisible clothes and lingerie.
Spamming two-hand sword attacks can lock your animation.
Changelog:
Re-balance of skill points and leveling system.
Cloud save is temporarily turned off for re-work.
Traps are added to the levels.
Added some new poses to existing furniture. We will keep adding more.
Added diary(notes) to the game(WIP).
v0.860
Rebalance of the game.
Fixed many map-related bugs: including going through walls, falling down from the map, lighting, etc.
Fixed most of the bugs reported in the test build.
Optimized item drop rate and quality.
Balanced the Hell Arena.
v0.850 Test
Dual Wielding.
Hell Arena.
Spears.
Amulets and Rings.
Shared Experience.
In-game achievements.
Gallery of lingerie.
Hide/Show a certain piece of armor.
Sell minions feature.
Added new and finalized old maps.
More weapons.
v0.831
All Christmas Sets are free in the Special Lingerie Sets Vendor for one week!
Also there's two new ones, they only showed in screenshots.
Bug Fixes
Bug Fix: Can't back to Nova palace
Bug Fix: Bad bunny mask is still broken
We are aware of the current optimization issue and we already have a solution, and a patch should come in a few days.
And the heavy motion blur is probably related to the low framerate since we have already turned it off.
Which means it should be fixed when optimization is better.
v0.830
Finalized a few maps (design and lighting) – Forsaken Ruins, Undead Valley, and two skirmish maps.
Added level 20, 21, 22, and 23 armors.
Bug Fixes
Bugfix: Custom pose bug. Most of the time, switching between girls reset the custom position of the last selected girl.
Bugfix: After winning Sarrow Meadow and Dallod Siege Camp, the game freeze when you are on the map and press ESC.
Bugfix: Invert mouse bug.
Bugfix: Hell Rider Gloves bug.
Bugfix: All Bad Bunny Ears related glitches.
Bugfix: 7 presets from Arwen to Liana are unresponsive when changing their settings in the character creator screen.
Bugfix: The siege notification with zero enemies inside of the battle.
Bugfix: The eyelashes are detached from the eyes on some presets.
v0.820
Two new sets of lingerie and two costumes, free during Halloween.
New room located in the dungeon.
bug fixes:
Bug Fix: Mourning Labyrinth and Balanda Village don't have a boss.
Bug Fix: There are no rescue missions anymore.
Bug Fix: Special Lingerie sets show the wrong price.
Bug Fix: The color picker doesn't work in the skin customization window.
Bug Fix: In the character customization window, 7 presets from Arwen to Liana are unresponsive when I change their settings.
Bug Fix: If you remove the companions from the members at the beginning of the battle, minions will not appear either.
v0.801
Bug Fix: Nipples Customization doesn't save when you leave the customization window.
Bug Fix: When you are moving succubus in free pose mode, the model is moving very far.
Bug Fix: Except for equipped items, cannot pick up anything in inventory with the Right mouse button (including home inventory).
Bug Fix: Transmog feature doesn't work correctly, armor from the right side doesn't get all defense rate.
Bug Fix: The speed is too fast when moving or turning your character in the pose mode.
Bug Fix: In the Transmog menu, the item gets deleted if you press the remove button while holding onto an item with your mouse pointer.
Bug Fix: It doesn't save progress after you concurred new locations.
Bug Fix: The minions level up when health is above the maximum.
Bug Fix: Minions disappear on combat maps whenever they are clicked in the Minion menu.
Bug Fix: Transmog feature does not remove the cost from the account.
Bug Fix: When you aim at the standing mirror in the building mode, it shows the wrong icon.
Bug Fix: There is no keybinding to change the party window hotkey. The letter "P" brings up a minions menu even though I have it mapped to different "Interaction" control.
Bug Fix: UI wouldn't expand to the width of the monitor.
Bug Fix: When using a shield all equipped armor is ignored and players receive full damage.
Bug Fix: When you load preset it doesn't load hair and lipstick color.
Bug Fix: After the win, there are no icons on the world map.
Bug Fix: Minions won't recover health by themselves.
Added some more minions.
Polished most of the maps.
More loot drops and coins.
Increased army size to a maximum of 9 minions.
Added garrison function. You can add garrison to any conquered cities and they will appear in defense combat.
Fixed the steam cloud saves. You need to manually upload and download saves.
👑 Support us today to Download more contents & get EXCLUSIVE Rewards!
💡 Visit our Help Center if you need Password or get help with errors!
🛒 Buy the game to support the Developer if you like it.
📬 For Developers, visit our DMCA Page from the Menu if you need anything.