H-Game 2145: The Fiendish Tragedy of an Imprisoned and Impregnated Girl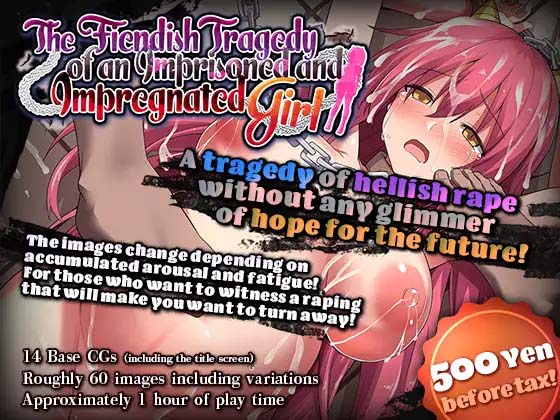 Original Title: 悲劇のロリ巨乳鬼畜孕ませ監禁
This is a side story based on Fiendish Violation Quest.
Oni girl Tana has left her village to find a cure for her mother's illness, but runs afoul of some especially cruel bandits…
[Summary]
This game depicts the miserable life of a girl who became a s3x slave.
It is an experimental work about a hellish life without any glimmer of hope for the future.
This work was developed as an extra game for the packaged version of Fiendish Violation Quest,
but for various reasons, we have decided to sell it on DLsite.
Please purchase this only if you are willing to support our circle in the future.
We recommend this game for those want to play a quick short story.
[System]
Gain favor with the men, or suffer the consequences.
Different scenes will display if you don't do very well, so if you're here to fap, don't try *too* hard!
[CG Info]
Brown Sugar Nikke CGs: 14 main (including title image) with 60 variations
Includes 2 repeats from Fiendish Violation Quest.
👑 Support us today to Download more contents & get EXCLUSIVE Rewards!
💡 Visit our Help Center if you need Password or get help with errors!
🛒 Buy the game to support the Developer if you like it.
📬 For Developers, visit our DMCA Page from the Menu if you need anything.