H-Game 1715: Moaning Wood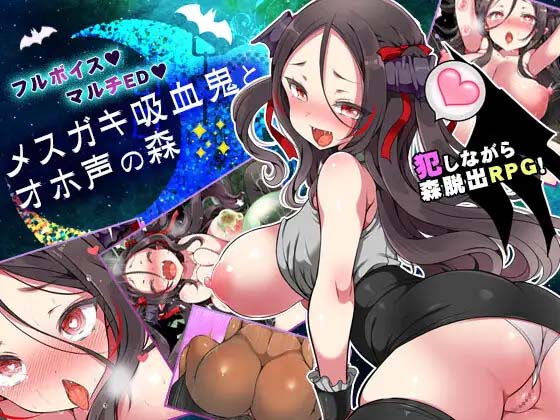 Original Title: メスガキ吸血鬼とオホ声の森 | Loli Vampire and the Forest of Moaning
You are a monster hunter
who captured the elusive vampire Nommel!
…but…do you remember the way home!?
As you fumble through the forest, trying to find your way,
the constraints binding Nommel grow ever weaker…
You have to escape the forest
while she is still bound!
【☆Sensual☆】———————————-
☆Erotic encounters of many varieties lay in chests!
☆Tentacles, slimes, and other fantastical erotic pleasures await!
☆ Force yourself onto this bratty vamp to show her who's boss!
Although she seems unimpressed with you at first, repeatedly violating Nommel will increase her pleasure!
Watch her change her mind one erotic step at a time!
– * – * – * – * – * – * – * – * – * – * – *
☆Fully Voiced!
☆ Multiple Endings! (7 Possible Endings!)
☆Two Game Mode Difficulties (Easy, Normal)
Choose tiles with different events!
Enjoy simple, snappy gameplay!
☆ Average Single Playtime: 30-40 minutes
Enjoy playing the game over and over to experience the multiple endings!
☆ 19 CG to collect!
☆Extras, Character Profiles, and an Opening Movie for the Game (under development)
👑 Support us today to Download more contents & get EXCLUSIVE Rewards!
💡 Visit our Help Center if you need Password or get help with errors!
🛒 Buy the game to support the Developer if you like it.
📬 For Developers, visit our DMCA Page from the Menu if you need anything.